NZ's most popular network of Wi-Fi hotspots

Zenbu WiFi wireless internet access is available in COOK ISLANDS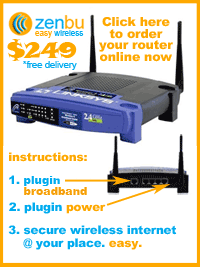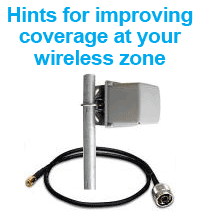 The list of all Zenbu wireless internet zones in
COOK ISLANDS
is displayed below. There may also be other WiFi hotspots near
COOK ISLANDS
which are not listed.
Please note that it costs NZ$0.30 (30 cents) per megabyte to access the internet in the Cook Islands.
Get this list as a
RSS feed
or a
PDF file
. The PDF list can be saved so you can find our wireless internet zones when you don't have an internet connection available.
| | | | | | |
| --- | --- | --- | --- | --- | --- |
| | = online | | = offline | | = verified website |
Status & Name
Description
Contact Details
Town/City


Jens Beach House
Located on a stunning beach, our rental homes have all the amenities you require, including affordable Wireless Internet access. Our wifi hotspot stretches to guests of Bella Beach, Are Tatuava and Iro's Bungalows. Sit on our beaches and enjoy sun, sand, surf - internet style.

Jenny's Beach House Titikaveka,
Rarotonga
00682 20198

Cook Islands

ArorangiCICC
Greetings Kia Orana and Welcome to the Arorangi Cook Islands Christian Church Website. We welcome you visitors, friends and colleagues to the site and here's hoping that the site will eventually drive a campaign for the Lord in enticing visitors to the site where we can all share the Wealth of Knowledge.

Arorangi CICC Arorangi,
Rarotonga
00682 22331

Cook Islands

Backpackers Int
Backpackers International Hostel, Rarotonga, Cook Islands offers budget accomodation and a welcoming friendly social environment. It is only 1 minute's short stroll to our white sandy, paradise beach, framed by coconut palms with a warm clear turquoise blue lagoon perfect for swimming. Set in lush green tropical gar

3r Kavera, Arorangi,
Rarotonga
0800 4 ZENBU

Cook Islands

Captain Tamas
FREE ACCESS TO MANY LOCAL WEB SITES! WiFi HotSpot at Captain Tama's Lagoon Cruizes HQ right at Muri Beach. Since 1992, Captain Tama's have been offering their Muri Lagoon cruise and sharing their tropical island playground with visitors to Muri Beach Rarotonga in the Cook Islands.

Muri Beach Muri,
Rarotonga
00682 27350

Cook Islands

Castaway
Castaway Beach Villas is a small, quiet and secluded Island Paradise situated on the sunset and sheltered west side of the island. Castaway has 12 units in total comprising 6 poolside studios, 4 beachfront studios and 2 two bedroom pool suites. The property is located on the edge of a turquoise lagoon!

On The Beach Arorangi,
Rarotonga
00682 21456

Cook Islands

Central Motel
Central Motel, as the name implies, is located right in the centre of the main township of Avarua. The property is a short stroll to most Government offices, the Post Office and restaurants. All rooms are well furnished. The property has a spa pool. There is a conference room on site with internet access and modern con

Takuvaine Road Avarua,
Rarotonga
0068225735

Cook Islands

Cocolatte
Cocolatte, for the best coffee in town.

Beachside Main Road, Vaima,
Rarotonga
00682 27183

Cook Islands

Coco Putt
CHALLENGE YOURSELF TO A HOLE IN ONE IN RAROTONGA! Onsite Chef All-Day Menu Private Functions Hens/Bachelor Nights Birthday Parties Prices: Adults $10 Children $5 Students $7 Family Pass $25 (2 Adults & 2 Children) Membership Passes Group Bookings

Off Main Road Arorangi,
Rarotonga
00682 24979

Cook Islands

Compman Demo
Demonstration zone. Will not always be available at this location.

Main Road Ngatangiia,
Rarotonga
682 24979

Cook Islands

Cooks Bay Villas

Main Rd Vaimaanga,
Rarotonga
682 22922

Cook Islands

Crown Beach
The finest full service boutique resort on Rarotonga in the Cook Islands, located on the sunset side of the Island. A place built in harmony with the natural environment, Crown Beach Resort is ideally positioned on an expansive white sandy beach and surreal turquoise lagoon. Arrive as a guest leave as a friend!

On the Beach Arorangi,
Rarotonga
00682 23953

Cook Islands

Etu Moana
This boutique resort offers eight modern Polynesian Style Villas with thatched roofs and large covered verandas. From each Villa you have a spectacular view overlooking the turquoise lagoon and the ocean. Hardwood floors, exposed timbers, teak furniture and local art create a very exclusive and romantic atmosphere.

On The Beach Amuri,
Aitutaki
00682 31458

Cook Islands

Heron's Reef
Heron's Reef Beachfront House consists of three units on a secluded beachside property at Matavera on Rarotonga's east coast. (1) The Bougainvillea studio unit, (2) The Ferns one bedroom unit, (3) The Nautilus two bedroom unit. All three units can be rented individually, but also interconnect so can be combined for two

Main Rd Matavera ,
Rarotonga
00682 26487

Cook Islands

Koka Cruises
Enjoy a glass bottom boat cruise through Muri Lagoon while entertained by our ukulele playing guides, to our spectacular marine reserve. Snorkel and swim amongst the coral gardens, colourful tropical fish and giant clams. Enjoy a delicious fish BBQ on beautiful Motu Koromiri - AND - affordable Internet Access!

Koka Lagoon Cruise Muri Beach,
Rarotonga
00682 27769

Cook Islands

Lagoon Breeze
4.5 acres of lush tropical gardens located on the south-western corner of the island of Rarotonga approximately 8km from the airport and close to Restaurants and Shops. Lagoon Breeze Villas offers a wide range of accommodation styles for singles through to families or small groups.

Main Road, Aroa,
Rarotonga
00682 22020

Cook Islands

LBV
Le Bon Vivant Café offers a wifi hotspot at the northern end of Avarua. Vouchers are redeemable from Le Bon Vivant Café (LBV) located between Moana Gems and Tukis

Main Road Avarua,
Rarotonga
00682 27105

Cook Islands

Little Poly
Best boutique resort in the Pacific.

1 Te Ara Nui,
Rarotonga
68224280

Cook Islands

Magic Reef
Come enjoy the magic of Rarotonga. Sit back, relax, and take in the breathtaking sunsets on your own balcony with each bungalow having an ocean view. Enjoy a complimentary continental breakfast on arrival from your international flight. Are you wanting to just get away from it all, plan your dream wedding or ev

Beach Side Main Rd, Arorangi,
Rarotonga
00682 27404

Cook Islands

Manuia Beach
24 Polynesian style rooms in duplexes, set in lush tropical gardens, with six rooms located on the beach offering uninterrupted views of the lagoon and Pacific Ocean beyond. Our sand floor Right on the Beach Restaurant & Bar "Infinity Edge" , freshwater pool and friendly staff provide an intimate and personalized holid

On the beach Arorangi,
Rarotonga
00682 24979

Cook Islands

MBCH Lounge
The Muri Beach Club Hotel enjoys an enviable location on the very best stretch of beach on Muri Lagoon. Beachfront rooms have stunning views over the lagoon and the small off-shore islands. Boutique in style and service, the Muri Beach Club Hotel welcomes you to experience the real rhythm of Rarotonga.

On the Beach Muri,
Rarotonga
682 23000

Cook Islands

Muri Beach Club
The Muri Beach Club Hotel enjoys an enviable location on the very best stretch of beach on Muri Lagoon. Beachfront rooms have stunning views over the lagoon and the small off-shore islands. Boutique in style and service, the Muri Beach Club Hotel welcomes you to experience the real rhythm of Rarotonga.

On the Beach Muri,
Rarotonga
00682 23000

Cook Islands

Muri Hillside
Family friendly complex of guesthouses in popular Muri on the hillside sharing a beautiful pool and spacious bbq deck in lush tropical surroundings.

Hillside Muri,
Rarotonga

Cook Islands

Muri Retreat
We are a small and friendly Retreat, situated on a private tropical hillside, peacefully overlooking the warm turquoise waters of Muri Beach Lagoon. With 4 only, stylish, fully self contained quality apartments, boasting excellent facilities eg. swimming pool, fun-hut and more, surrounded by lush landscaped tropical

Hill Side Muri,
Rarotonga
00682 24141

Cook Islands

Onu Bay

Main Road Black Rock,
Rarotonga
00682 24979

Cook Islands

Ootu Villa Aitut
Located on Ootu Beach beside the pristine Aitutaki lagoon just a lazy step away.

1 Ootu Road,
Aitutaki
68258894

Cook Islands

p4rooa

Main Road Ooa,
Rarotonga
00682 24979

Cook Islands

p4rtupapa

Main Road Tupapa,
Rarotonga
00682 21950

Cook Islands

Puaikura Reef
We are a family friendly property and opposite a stunning white sandy beach. Our captivating Lodges, private and with spectacular gardens sit nestled in among beautiful green foliage with wonderful swimming and snorkeling beach just metres across the road.

Aroa,
Rarotonga
00682 23537

Cook Islands

Raro Backpackers
Rarotonga Backpackers offers two beautiful locations on the west side of the island, both with swimming pools, and with easy access and proximity to all the rest that this small piece of paradise has to offer:

On the beach Main Rd, Arorangi,
Rarotonga
00 682 21590

Cook Islands

RaroLive
RaroLive brings you cheap WiFi access at Rarotonga International Airport. Access is FREE to local web sites RaroLive.com, Aitutaki.net, CookIslandsairports.com, AirRaro.com and some others. Zenbu Vouchers can be purchased at the Air Rarotonga sales office and from Virgin Australia Checkin staff at their operating hours

Rarotonga International Airport Nikao,
Rarotonga
(682) 55858

Cook Islands

RaroLive 2
RaroLive brings you cheap WiFi access at selected locations around Rarot . Access to local web sites RaroLive.com, Aitutaki.net, CookIslandsairports.com, AirRaro.com and some others is FREE. Vouchers can be purchased at the Air Rarotonga sales office and from Virgin Australia Checkin staff at their operating hours.

Main Road Panama,
Rarotonga
00682 22888

Cook Islands

RaroLive 3
3-bedroom bungalow located on the Kaena Rd., Aroa, on the south-western corner of Rarotonga island–4 minutes walk from a white sand beach and sheltered lagoon. It is an ideal holiday home for up to two couples and we have had families with up to four children who have loved it here. See our web site for more info.

Near the Beach Aroa,
Rarotonga
00682 26900

Cook Islands

RaroLive 4
RaroLive.com

Tikioki Takitumu,
Rarotonga

Cook Islands

Royale Takitumu
An intimate resort, located directly on pristine Titikaveka Lagoon, Royale Takitumu is an all-Villa property, providing a genuine, uniquely Cook Islands holiday,. The ten exclusive, free-standing, thatched-roof Villas, all boast breathtaking views of the palm-fringed sandy beach and turquoise lagoon. Each Villa was des

Main Road, Beach Side Titikaveka,
Rarotonga
00682 24682

Cook Islands

Sails Restaurant
Sails Restaurant has long enjoyed a reputation as a great place to enjoy the best Rarotonga has to offer in pacific cuisine, unparalleled lagoon views and friendly service. Located on the white sandy beaches of Muri Lagoon our modern restaurant offers indoor and outdoor dining. A fabulous setting for special oc

PO Box 3060 Muri Beach,
Rarotonga
00682 27349

Cook Islands

Sunhaven
SUNHAVEN BEACH BUNGALOWS has absolute beach frontage and is situated on the western side of Rarotonga and enjoys magnificent tropical sunsets. We offer nine top quality rooms comprising four individual one bedroom bungalows, one studio suite, two one bedroom suites, one deluxe studio and one standard studio.

Main Road Arorangi,
Rarotonga
00682 28465

Cook Islands

Sunset Resort
Sunset Resort is idyllically situated on the sheltered western side of the island only minutes from Avarua township. The secluded beachfront location provides guests with an unspoilt view of Rarotonga's crystal clear aqua blue lagoon and breathtaking sunsets. The Resort offers 35 spacious rooms situated either on

On the beach Arorangi,
Rarotonga
00682 28028

Cook Islands

Tahiti Cafe

Main Road Avarua,
Rarotonga
00682 24536

Cook Islands

Tauonos
Enjoy Home made meals, cakes desserts and beverages in a peaceful setting in our organic garden on Aitutaki. We also have seasonal organic fruit and vegetables on sale.

Beach Side Amuri,
Aitutaki

Cook Islands

Te Vakaroa
Our magnificent villas have unsurpassed views of the fabulous Muri Lagoon and beyond the reef to the South Pacific Ocean. The large infinity pool and jacuzzi are the ideal places to unwind and enjoy a tropical cocktail.

Main Road Muri,
Rarotonga
00682 25593

Cook Islands

Te Vara-Nui

Main Rd Muri Beach,
Rarotonga
00682 24006

Cook Islands

The Computer Man
The Computer Man has a sales\\service shop located in the centre of town. We offer a Wifi hotspot covering a popular area in the centre of town. Vouchers are redemable from "The Computer Man" shop located between the CITV and the bowling club.

Moss Road Tutakimoa, Avarua (Town),
Rarotonga
00682 24979

Cook Islands

The Dive Centre
The Dive Centre is located right next to the Kaena Restaurant & Aroa's Big Fish groceries store on the South-West corner of Rarotonga at 'The Aroa Beach & Marine Reserve' (look out for ' The Big Fish') and offers a range of dive options from the Discover Scuba Lagoon Dive for beginners to dive trips for certified diver

next to the Rarotongan Beach Resort Aroa Beach,
Rarotonga
0068220238

Cook Islands

Villa Maria
With stunning views of Muri Lagoon, spacious indoor/outdoor living and a private pool, you will not want to leave. in the foothills of Muri lies Villa Maria, a stunning architectural split level three bedroom home with wrap around balconies on each level giving spectacular and loving views of Muri.

Main Road Muri,
Rarotonga
00682 23714

Cook Islands