Wi-Fi hotspots in New Zealand, OZ and the Cook Islands
Over 1,100 locations. Over 24.8 million connections. Easy. Cheap. Reliable.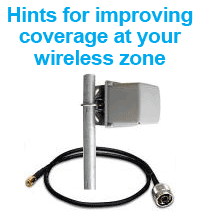 Zenbu wireless is a network of wireless internet (Wi-Fi) hotspots throughout New Zealand, Australia, Samoa, Tonga, and Cook Islands
which allow the public to securely, cheaply and easily access the internet using their own computers, cellphones, or other Wi-Fi enabled devices.
[ Key benefits of the Zenbu wireless system ]
Zenbu is the most popular wireless internet access system at accommodations in New Zealand.
Anyone with a broadband internet connection can easily set up their own Zenbu wireless zone, gain control over the amount of data their customers use, get paid when people use the internet at their place and get a free listing on the Zenbu website to bring in more customers.
The Zenbu wireless system stops your internet connection from becoming overloaded, protects your own computers, but still allows your customers to access the internet.
[ An overview of how it works ]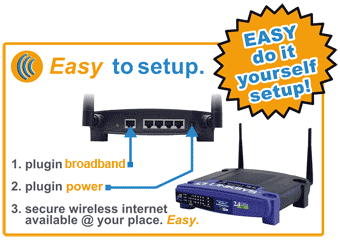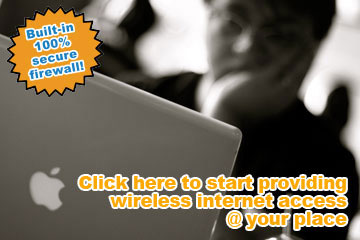 The Zenbu wireless system makes it cheap and easy for anyone to provide wireless internet access
The Zenbu wireless system is ideal for hotels, motels, backpackers, B&B's, cafes, tourist attractions - anywhere that people want to access the internet.
Purchase a Zenbu wireless system now for just $249.00 including delivery and start offering secure wireless internet access at your place the easy way.
Simple setup. No ongoing charges. No term contracts. You get paid. Easy.

"Just wanted to say that after traveling throughout NZ for 2 weeks and suffering horrible internet service through many different providers the entire time, I am relieved to finally find a service that works well. Finding proper working internet made me choose to stay at my current (m/h)otel longer than originally planned as a result. Thanks for knowing how to do it right!" - John
[
Read more feedback
]
No ongoing charges.


Once you've bought your Zenbu wireless system [$249.00] you don't have to pay us any ongoing charges.

No term contracts.


You can stop using the Zenbu system anytime you like. No early termination fees or any other nasty surprises.

Very easy, plug and play setup.


Simple to setup yourself, no computer geeks required. Our wireless router connects to your broadband modem just like your own computer.

Super reliable system.


Our system is in use at over 1,100 locations and has handled over 24.8 million connections. It works.

Print your own access vouchers.


Keep 100% of any payments you receive when you print and sell your own access vouchers. Or give free or discounted access vouchers to your customers when they make a purchase. You can print access vouchers directly from our website using your own printer.

People will visit your business because you have Zenbu Wi-Fi®
People choose businesses that offer Zenbu Wi-Fi®. If you have Zenbu they know the internet access is cheap and they can connect at your place.
You and your

friends

get free access.
Add

friends

or give free access vouchers to anyone you want to have free internet access.
Cloud hosted service.


When we make improvements you automatically get the latest version. Never miss out on new functions. Control your hotspot from anywhere via our website. No software to install.

New Zealand's most popular network.
We are the most widely available Wi-Fi® system at NZ accommodations. With 1113 active Zenbu Wi-Fi hotspots we've got New Zealand (and the Cook Islands!) well covered.
Enterprise grade security.
Internal firewall that protects both your own and your customers' devices from unauthorized access. WPA Enterprise® encrypted wireless signal.
Cheap to stay connected, easy to roam.


Our software monitors the data people actually use so it is very cheap to stay connected. Credit purchased online can be used anywhere on our network so customers don't lose their remaining credit when they head to their next destination.

Integrated Zenbu Local Search.
Easily find local products, businesses and services. Make sure your business is listed. It's like the Yellow Pages™ only much more flexible and totally free!
Users can connect as often as they like, wherever they like.


Unlike some systems Zenbu allows people to connect to the internet as often as they like. Any credit remaining at the end of a session will be available for use the next time they connect.

Hassle-free 24/7 online credit sales.


People can always securely purchase credit online using their credit card.

No computer required.


You do not need a computer to operate a Zenbu hotspot. Saves space. Great for cafes.

Wi-Fi Certified™ technology.
Easy for your customers to connect and use. Wi-Fi® is built into most computers, tablets & mobile phones.
Local servers. Local support.


If things ever go wrong we're here to help. Real people answer the phone, no battling with automated computer voices before talking to someone.

Our software monitors the amount of data used, not time.


This protects your internet connection from abuse by heavy users keeping the connection fast for everyone.
Using the internet at Zenbu wireless zones
When you connect to the internet at a Zenbu hotspot there is no time limit. You are charged only for the data you send and receive. That means no more rushing to finish an email before your time runs out and no more paying a fortune to do so. The cost of using the internet at a Zenbu hotspot varies but is always displayed on the login page before you login.
Credit is purchased in advance either online using a credit card or by obtaining an access voucher from the operator of the Zenbu wireless zone to which you'd like to connect. You can top up your account online as required.
Credit for accessing the Zenbu wireless network in New Zealand and the Cook Islands remains active for 1 month after last use. As long as you connect to the internet at a Zenbu wireless hotspot at least once every 1 month any credit you have remaining will not expire.
All you need to access the internet at a Zenbu wireless zone is a Wi-Fi capable device. Most notebook computers, tablets and many cellphones have Wi-Fi built-in. If you can access a wireless network at home or your work then you should be ready to go at any Zenbu wireless zone.

More information on the Zenbu wireless system